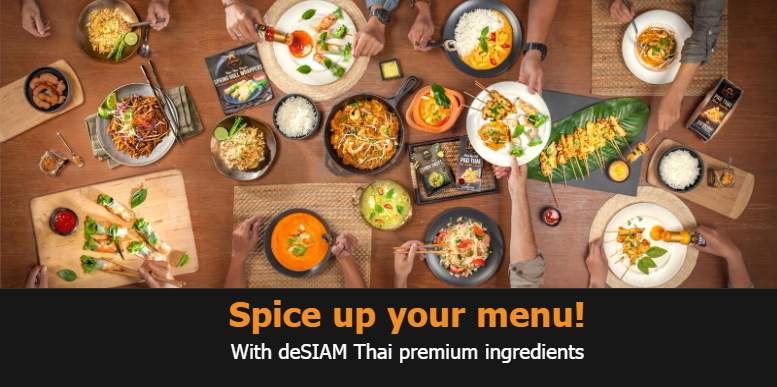 deSIAM Thai Curry Pastes
Made from fresh chillies. No artificial flavors or coloring.
Delicious and fragrant Thai curry pastes really pack a flavour punch.
Great for making curries, don't be afraid to use them in other dishes too.
deSIAM is a premium range of Thai ingredients that takes your taste buds on an authentic and fragrant flavour journey across Thailand.
Red Curry Paste
Vibrant colour, deliciously spiced
Make your own Thai red curry at home!
This classic dish takes just 15 minutes to prep and it's bursting with flavour.
Prepare & Use: Add red curry paste in soups and stocks to release hot and sour flavours.
Yellow Curry Paste
No bland flavours over here!
Yellow Thai curry is simple,delicious and speedy too.
Prepare & Use: Stir fry curry paste to release the aroma, mix with coconut milk then add meat and vegetables.
Green Curry Paste
The hottest curry paste 
Perfectly balanced using the sour notes of kaffir lime, together with fresh green chilli for colour and heat, and the fragrant warmth of fresh galangal.
A classic curry throughout Thailand, this flavour some dish is ready for you to prepare.
Prepare & Use: Stir fry curry paste to release the aroma, mix with coconut milk then add meat and vegetables.
What is the difference between Green,Red and Yellow curries?
Green curries get their colouration from green chillies, as do red curries from red chillies.
But yellow chillies don'texist!
So you might be wondering where yellow curries get their shade from?
Well, yellow curries include turmeric as one of the principal ingredients which gives this flavourful curry its colourful hue.
What should I be cooking into my curry paste?
deSIAM curry pastes are very versatile and flexible, which means you can get as creative as you want with them!
If you're a meat eater then you can throw in any type of meat, just make sure it's finely sliced so it cooks through properly.
If you're not really into eating meat then rest assured our curries go perfectly with an array of vegetables! We recommend you use soft vegetables such as aubergine, cherry tomatoes, or baby corn. You can also throw in tofu if you want to get your protein fix with your curry!
To make your curry even more fragrant you can top it off with a generous hand of coriander or basil,this will bring out even more flavour!
There is no fixed recommendation for what you should put in them, this will entirely depend on your dietary preferences!
Product Details
Product name

Green Curry Paste

Yellow Curry Paste

Red Curry Paste

Ingredients

Green Chilli, Garlic, Lemongrass, Shallots, Salt, Galangal Roots, Soybean oil, Coriander Leaves , Coriander Seeds, Sugar, Kaffir Lime Peel, Shrimp paste (Shrimp, Salt ), Coriander Roots, Cumin Seeds, Turmeric, Lime Juice

Soybean oil, Shallots, Yellow Curry Powder (Turmeric Powder, Mustard, Cumin Seeds, Coriander Seeds, Wheat flour, Fenugreek seeds), Garlic, Lemongrass, Red Chilli, Salt, Sugar, Galangal Roots, Coriander Roots, Ginger, Shrimp paste (Shrimp, Salt ), Kaffir Lime Peel, Pepper, Lime Juice

Lemongrass, Soybean oil, Red Chilli, Garlic, Shallots, Salt, Galangal Roots, Sugar, Shrimp paste (Shrimp, Salt ), Coriander Roots, Coriander Seeds, Kaffir Lime Peel, Pepper, Lime Juice

Allergens

Shrimp

Mustard, Gluten, Shrimp

Shrimp

Capacity

200g 

 70g

Country of Origin

Thailand

Brand

deSIAM

Storage conditions

Keep refrigerated after opening
Information and image sources:
3. EASY THAI GREEN CHICKEN CURRY
4.deSIAM