The T-bone contains a portion of tender filet and a portion of beefy strip loin, giving you the best of both worlds in one steak.
Product description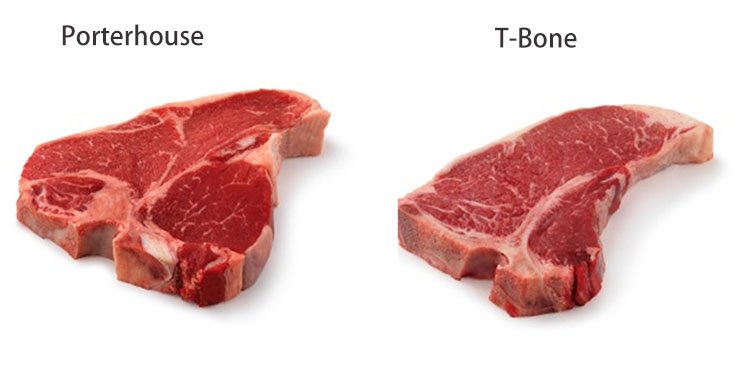 The T-Bone and Porterhouse steaks are both cut from the short loin and feature a"T" shaped bone in the middle.  Because of this, they can look almost identical – with the difference being that T-Bones are cut from the front of the loin, whereas a Porterhouse is cut more towards the rear and include more tenderloin. Both steaks have a New York Strip one one side of the bone, and a tenderloin Filet Mignon on the other side.
It's actually "two steaks in one" since each Porterhouse contains both a tender filet mignon and a meaty New York strip. These beautiful steaks are large enough to share and will make short work of the biggest appetites at your dinner table.
Cooking Tips
There are a few secrets to cooking such a thick cutlet.First of all, this kind of steak is best suited for a fast cooking technique,such as:
·     Frying
·     Grilling
·     Broiling
We also need to remember that T-bone/Porterhouse steak, being cut from short loin and tenderloin, is low in collagen, when compared to other parts of beef. Therefore, a long cooking time is not necessary. The meat becomes tender fairly quickly.
Recipes
T-BoneGrilled Steak and Mushrooms
Details
Product Name

T-Bone steak Porterhouse steak

Size

605g

640g

Country of origin

US

Ingredient

Beef

Grade

USDA Prime

Storage conditions

Keep frozen

Pro Tip

Try removing from the fridge at least 30 minutes before cooking.  Letting your steak reach nearly room temperature will allow for a more even cook.